KARAOKE & VIP BOTTLE SERVICE
300€ per group
Duration:

From 1 hour

Location:

Tallinn
A perfect bachelorette party in Tallinn, VIP style!
Whether you are celebrating a bachelorette party or a birthday party in Tallinn, Karaoke is the way to go. We teamed up with the most exclusive Karaoke hall in Tallinn and they have an extensive list of songs. You will have the hall for yourself for 1 hour, but you can stay longer if there is no group coming after you.

You get to sing and have fun and you have the karaoke hall all to yourself with VIP bottle service included. If you need catering it can also be arranged.
You can also order a male strip show for the bride and the group. He will come and perform and make sure you all get a great bachelorette party!
WHAT'S INCLUDED
1 hour private use of the Karaoke hall

*

5 karaoke songs

**
VIP table with bottle service

***
* The karaoke hall is yours privately for 1 hour, if you want to extend it the cost is 100€ for each additional hour. However, if there are no groups after yours you can stay as long as you like without paying extra. Please check with us when you book.
** You have 5 songs included and you can order extra songs for a small fee.
*** Your choice of 1 L of strong alcohol, either Gin, Vodka, Rum etc and 3 L of mixers.
ORDER EXTRAS TO THIS EVENT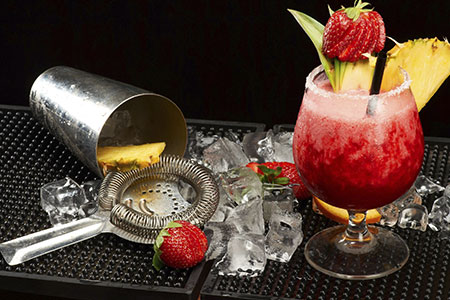 COCKTAIL MIXING CLASS - 30€ per person
If you book Karaoke and VIP bottle service you can combine it with a cocktail mixing class. You learn about bartending and you all get to mix 3 cocktails each and we have a small competition. If you include this event you will have the karaoke hall private for a total of 2 hours.